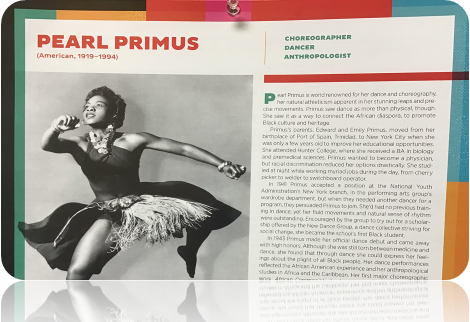 (Pearl Primus, 2022)

Today, I met Pearl Primus, though I first laid eyes on her three days ago, Sunday, April 2, 2023, when I changed my calendar to April (Pearl Primus, 2022). Her pose—stunning, even in black and white. Nevertheless, I pressed on to the reason I came to my writing man cave bright and early on Sunday morning. Having the Spiritual gift of Artistic Communication, my passion draws me to spend as much time as possible writing, training, composing, teaching, praying, and ministering. Purchasing the calendar, "A Journey into 365 Days of Black History," really paid off.
Immediately, post situating myself at my desk, I glance up at the calendar, now, Wednesday, April 5, 2023. As if I could hear her voice, her pose spoke, "You know nothing about me, do you?" Within my soul, I responded, "Your pose portrays depth. You are beautiful. I love your name. I now know that you are American, born in 1919, and died in 1994. Wow, I was born in 1957, we could have crossed paths."
Choreographer – Dancer – Anthropologist
These three words continued the performance of heightening my curiosity. After all, the purpose of my nonprofit, Oneness Today, Inc. is to educate using the arts. It's my job to stop in my tracts and learn more about this lady who assures me of my time's worth. So, I take the calendar down and begin to read. Seriously! She moved from Trinidad to New York City. When she passed, Wikipedia revealed her living in New Rochelle, NY (Pearl Primus, Wikipedia, 2023). We were neighbors. I grew up in Mt. Vernon, NY.
It's amazing when despite your best-laid plans, you end up smack dap on the stage that allows you to strut your stuff, acting out "the who you were meant to be." Primus sought the medical field; I sought the psychology field. She received a BA in biology and premedical sciences, I received a BA in Psychology, and a minor in Religion. Nevertheless, artistic communication prevailed upon us both. While working "at the National Youth Administration's New York branch, in the performing arts group's wardrobe department," Pearl answered the call of her gift, dance. No pun intended, but the rest is the very history I am reading about.
I am thrilled. My journey has just begun. Ms. Primus has paved the way for me. "…She found that through dance she could express her feelings about the plight of all Black people. Her dance performances reflected the African American experience and her anthropological studies in Africa and the Caribbean" (Pearl Primus, 2022). Certainly, I can capture her passion and portray it through Oneness Today. Using the Fine Arts, Literary Arts, and Performing Arts, to qualify "our community to thrive in love and purity" (Our Big Purpose, 2023).
Pearl Primus, I have so much more to learn from you. Perhaps, this month we will have more conversations. Thank you for gracing the April calendar.


Works Cited
Our Big Purpose. (2023). Retrieved from Oneness Today, Inc.: https://www.oneness.today/our-...
Pearl Primus. (2022). 2023 Calendar: A Journey into 365 Days of Black History.
Pearl Primus, Wikipedia. (2023, April 5). Retrieved from Wikipedia: https://en.wikipedia.org/wiki/...